Service Overview
vBackup delivers powerful and reliable features and functionality to help you avoid the risk of catastrophic data loss powered by Veeam, the industry leader in backup and restore technologies.
With vBackup, you get:
Hosted offsite backups: Get your backups offsite to a hosted cloud repository through a secure SSL connection with no additional licensing required Complete visibility and control: Access and recover data in hosted backup repositories directly from the backup console; track cloud repository consumption and receive reminders for hosted storage renewals
A modern backup architecture: Leverage Veeam's modern backup technology, including Backup Copy jobs with Built-in WAN Acceleration, forever incremental backups, parallel processing for VMs and VM disks, GFS (grandfather-father-son) retention policies and more?all built into one product
End-to-end encryption: Rest easy by encrypting all data at source (before it leaves your network perimeter), in flight and at rest, without negatively impacting the data reduction ratios of built-in compression and WAN Acceleration.
Manual backups are obsolete technology, tapes are simply too expensive, difficult and impractical to maintain secure backup processes for local, remote and archival data protection or disaster recovery. And these problems are further compounded by the complexity of a virtualised architecture.
The vBackup service provides fast, flexible, and reliable recovery of virtualised systems, applications and data. It unifies local on-site backup and off-site cloud replication in a single hybrid solution; increasing the value of backup for VMware, Microsoft Hyper-V virtual environments and Physical Servers / Workstations.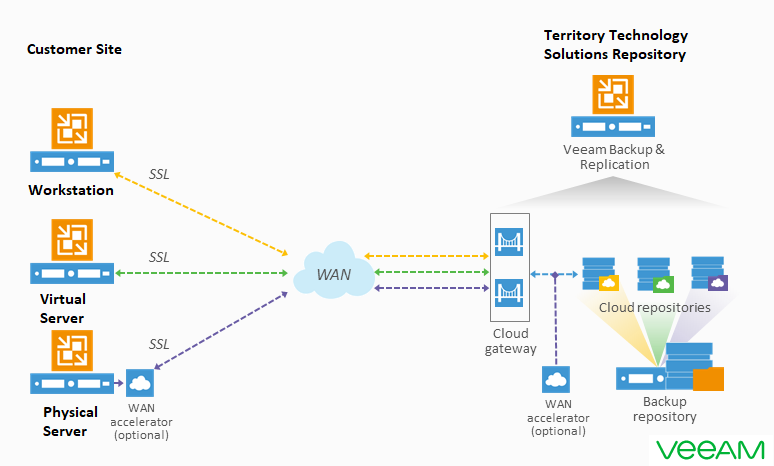 The number one VM backup solution from Veeam now Avaialble from Territory Technology Solutions as a per month subsscription. Eliminate the complexity of managing backups for each individual guest server by protecting all VMs from the hypervisor level.
Avoid data loss through replication or simply backup faster and more frequently, recover a VM from a backup in a matter of minutes. Eliminate the need to babysit jobs or constantly tune job schedules
From one console, you can protect VMware vSphere, Microsoft Hyper-V and Physical Servers. Territory Technology Solutions provide access to VMs directly from a compressed and duplicated backup file on regular backup storage with offsite replication for complete recovery, even if the onsite backup appliance is destroyed.
For more information call our sales team at Territory Technology Solutions on (08) 8944 2222 or email us at sales@techsolutions.com.au.